Delish editors handpick every product we feature. We may earn commission from the links on this page.
The Cocktails At Vanderpump À Paris Are Ridiculously Beautiful
There's an Eiffel Tower of shots!!
Everything in Las Vegas is a little bit ridiculous. I found that to be the most true at Vanderpump à Paris in the Paris Las Vegas hotel. The place is totally over the top. The meat and cheese selections aren't served on platters or cutting boards, but in bird cages (sans bird, of course). The interior is filled with crystal chandeliers, wrought-iron cages, and bronze umbrella fixtures. Luxurious velvet couches, ornate mirrors, and lots of faux greenery and florals surround the tables.
Everywhere you looked, you could see reminders of who owns the restaurant—The Real Housewives of Beverly Hills and Vanderpump Rules starLisa Vanderpump. There are paintings that show Vanderpump in a ballgown with her fluffy white dog. The menu is a replica of a Parisian newspaper called Le Vanderpump Parisien. It's full of photos of Vanderpump and can be purchased for $20.
But the cocktails were the most whimsical, beautiful part of dining at Vanderpump à Paris. They all came with some fantastical garnish or are served in some fanciful way. You'll probably notice all the different types of drinks floating around the dining room on trays more than the food. There are 22 different cocktails on the menu, not including any of the specialty shots, wines (many of which are from Vanderpump's own brand), and beers. Here are just a few of the gorgeous cocktails you should try there.
Looking to mix some cocktails of your own? Check out our best cocktail recipes. Or if you're in Las Vegas and need another restaurant recommendation, read up on The Bedford by Martha Stewart.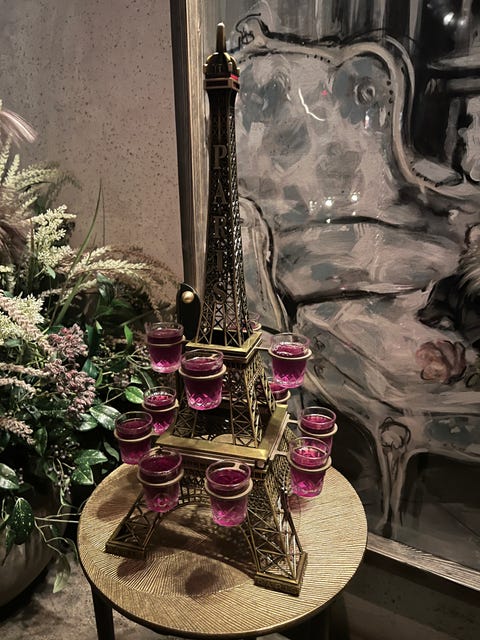 This drink, or drinks, is quite literally a mini Eiffel Tower full of shots. It comes to the table with 12 glasses filled to the brim with a hefty amount of liquor. You can choose from their list of a la carte shots, like chocolate vodka, peach whiskey, and blackcurrant tequila (pictured). But be warned: you'll be towering over if you drink too many of these.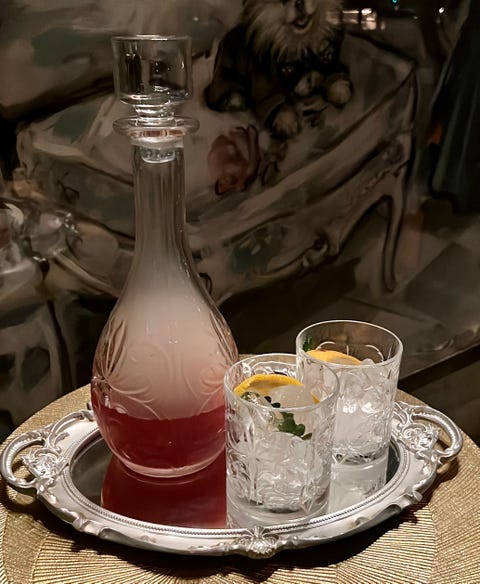 The menu calls this drink a "touch of madness for two." It's made with gin, absinthe, ginger liqueur, basil, orange, lemon, pineapple, hibiscus, and smoked chili. It definitely has notes of sweet, spicy, and whimsical.
The coolest part, however, is the applewood smoke that sits on top of the drink in the fancy bottle it's served in. It's heavy enough to not escape when the top is removed, or even as it's being poured.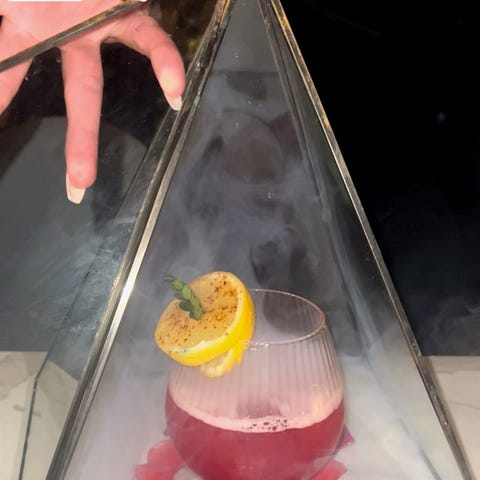 You'll be in love with this drink at first sight. And it won't take long for you to spot its Louvre-shaped, smoked-filled vessel going from table to table. You'll probably only like this cocktail if you like smoky drinks. The base is mezcal, and before you take a sip, aromas of hickory smoke hit your nose. Prickly pear, lemon, orange bitters, and aquafaba mellow it out.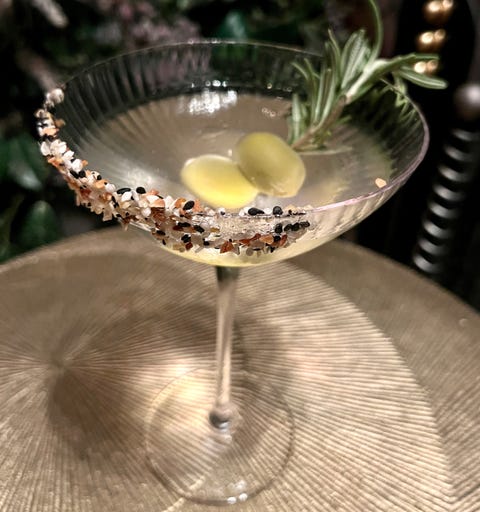 This isn't your average martini. Sure, it's made with gin and olives, but the rim is crusted with a salty, crunchy, everything bagel seasoning. The olive is stuffed with bleu cheese, and the drink is garnished with a sprig of rosemary. I would call this more of a snack than a sipper.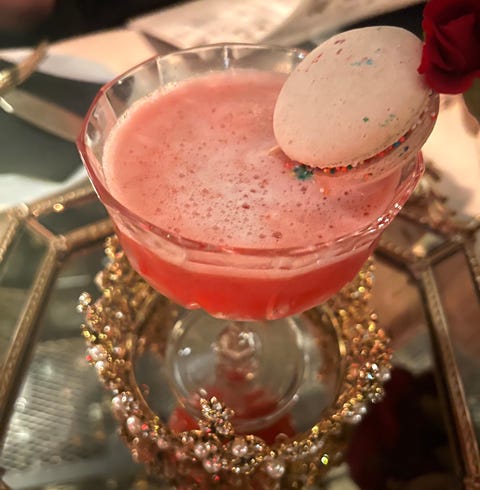 If it's your "f*cking birthday," as the menu says, this is the drink you have to order. The base is vodka with orange blossom liqueur, raspberry, lemon, angostura bitters, and aquafaba. But the best part is the garnish—an entire macaron covered in sprinkles.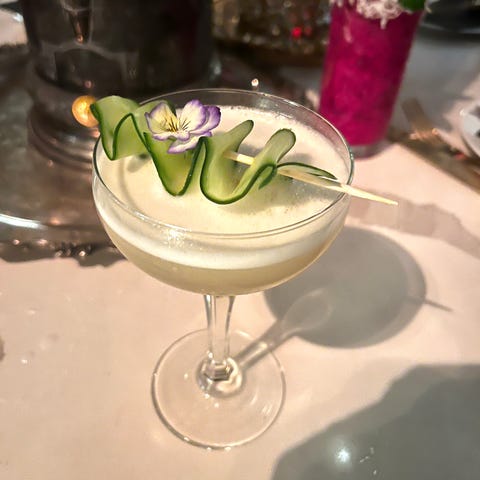 Gin fans should go for the Riviera Rules. It's got elderflower, lemon, basil, mint, cucumber, grapefruit bitters, aquafaba, and lavender water. It's crispy, light, and refreshing without being too sweet.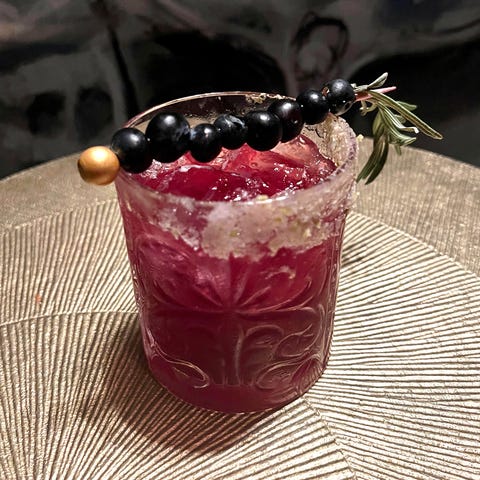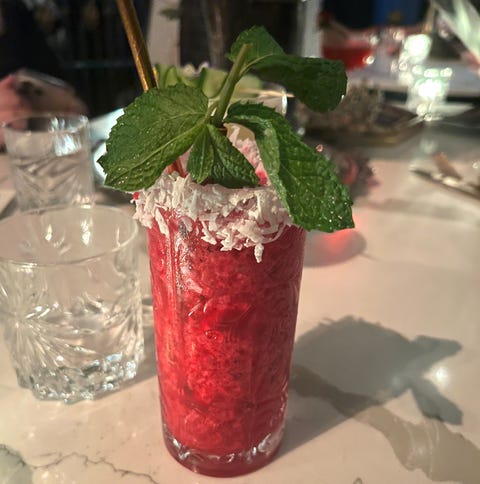 If you love a good blended drink, go all out and order the Flora Bora Bora. Its vibrant pink color comes from dragon fruit, but the tropical vibes are pushed island-side with coconut rum and cream, pineapple, lime, orange bitters, and jalapeño aguardiente for a bit of heat.