15 Chicken Drumstick Recipes That Are Way Better Than Wings
Step aside, chicken wings.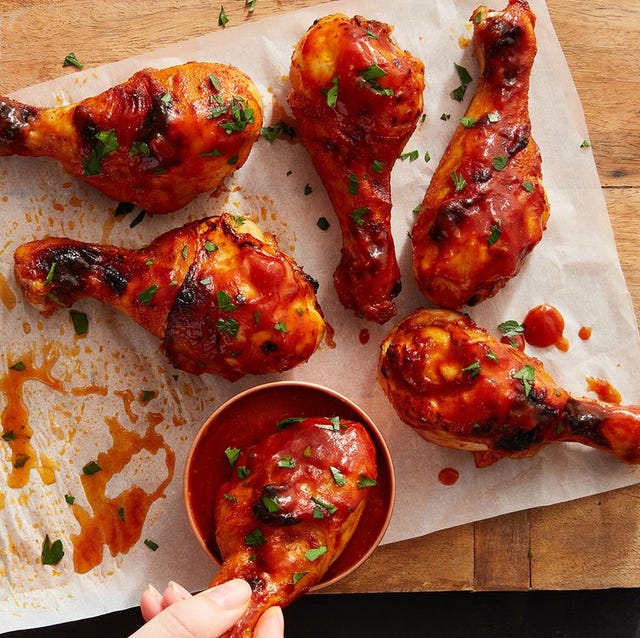 Chicken wings tend to steal the spotlight from chicken drumsticks, but here at Delish, we think it's time that drumsticks get the attention they deserve. Chicken drumsticks are often a cheaper alternative to wings, with a lot more meat than their winged counterparts. They even taste just as tender and meaty in our recipes for Buffalo chicken drumsticks and air-fryer BBQ chicken drumsticks, and will impress everyone on game day.
What is a chicken drumstick, anyway? Drumsticks are located in the lower part of the chicken leg, which consists of the chicken thigh and drumstick; try our maple mustard chicken legs, and you'll get both! If you've ever made a whole roasted chicken before, you've likely realized just how delicious drumsticks can be (and maybe even fought over them). Thankfully, you don't have to fight over them when you make a batch of our sticky grilled chicken, Crock Pot chicken drumsticks, and air-fryer drumsticks.

Drumsticks are a classic cut for so many classic regional dishes too. They add tons of richness and meatiness to jerk chicken, five-spice roast chicken, and chicken adobo. Thai khao soi stars chicken drumsticks in the rich, savory coconut-milk based noodle soup that's sure to become a weeknight staple.

Hungry for more chicken recipes? Try all our favorite chicken breast recipes, marinated chicken recipes, and chicken pasta recipes. Got leftovers? We've got tons of ways to use up shredded chicken and rotisserie chicken that will make meal prepping for the week a total breeze.